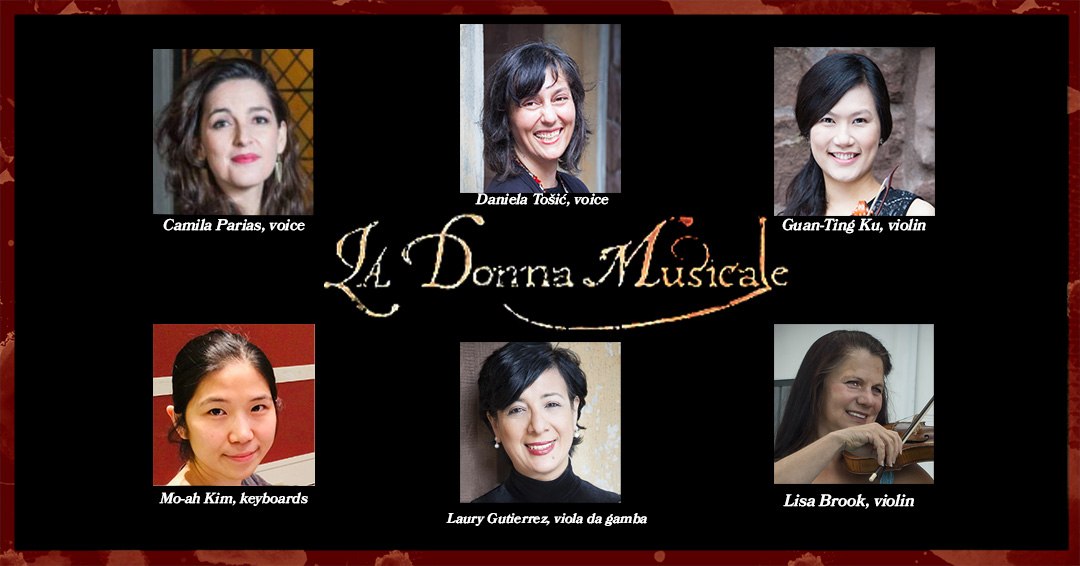 Date
Oct 25 - 26 2019
Expired!
Time
7:30 pm
Essential Early Women Composers
La Donna Musicale is proud to offer its program Essential Early Women Composers to audiences throughout Massachusetts this October, especially in Worcester.  
Presenting a survey of music written by historic women composers spanning the Middles Ages through the early Classical era, and featuring some of La Donna Musicale's favorite repertoire, we begin with music by Hildegard von Bingen and conclude with a harpsichord concerto by Maria Teresa Agnesi. Works by Barbara Strozzi, Isabella Leonarda, and Elizabeth Jacquet de la Guerre will also be highlighted in this series of concerts.  
Combining stirring performances with groundbreaking scholarship and led by Radcliffe Institute Fellow and Brandeis University Resident Scholar Laury Gutiérrez, the award-winning ensemble La Donna Musicale brings to life the music of female composers nearly forgotten by history, including vibrant works long overlooked or only recently discovered. Passionate arias, moving laments, and delightful instrumental music are a hallmark of their performances. 
Performers 
Daniela Tošić & Camila Parias, voice 
Guan-Ting Ku & Lisa Brooke, violin 
Mo- Ah Kim, harpsichord 
Laury Gutiérrez, viola da gamba 
For more information please contact us at ladonna@ladm.org or (617) 461-6973.
La Donna Musicale is a nonprofit research, education, and performance organization devoted exclusively to the discovery, preservation, and promotion of sacred and secular music by women composers. The ensemble uses period instruments and historically informed performance practice to showcase the work of women composers from the Renaissance, Baroque, and Classical periods as well as contemporary works. Based in Boston, Massachusetts, La Donna Musicale performs throughout the U.S. and internationally.
Since its inception, La Donna Musicale has educated listeners through outreach programs, pre-concert lectures, extensive and informative CD liner and program notes, radio programs, and its website, which features online audio files. The ensemble has also participated in music education series such as Harvard University's Meet the Performer and has been lauded by the Boston Globe as a "Classical Pick." Each of La Donna Musicale's three ground-breaking CDs of music by Antonia Bembo and Julie Pinel has received national and international accolades. Their fourth CD, Anna Bon: La virtuosa di Venezia was the winner of the Arts and Media category by The Society for the Study of Early Modern Women.  
La Donna Musicale brings together world-renowned musicians and scholars to unearth, perform, and record music that, in many instances, has never been performed or recorded previously. Concerts have featured modern world premieres of works by Antonia Bembo, Anna Bon, Chiara Margarita Cozzolani, Maria Xaviera Peruchona, Julie Pinel, and Caterina Assandra, among others. The musicians and director, in collaboration with musicologists, use their experience and abilities to translate the conceptual understanding of historical performance into live music and recordings. Each performer is trained in the art and technique of historical performance practice. Collaborating scholars, experts in their field, include Claire Fontijn, Robert Kendrick, Thierry Favier, Catherine E. Gordon-Seifert, David Lasocki, and Rebecca Messbarger. 
Indeed, La Donna Musicale has received reviews that attest to the success of these collaborations: 
"… exacting scholarship is backed up by high quality performances and production values" — Craig Zeichner, Early Music America 
The European early-music magazine Goldberg awarded five stars to La Donna Musicale's recording of Bembo's The Seven Psalms of David Vol. I, released in Spring 2005, and four stars to The Seven Psalms of David Vol. II.  In 2007, La Donna Musicale was the only US-based group to receive Goldberg's 5-star award that year, for its CD The Pleasures of Love and Libation: Music of Julie Pinel and Other Parisian Women. 
"Everything about this American ensemble is first rate…"–William Yeoman, Goldberg