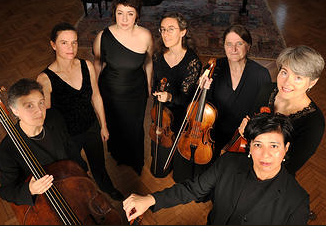 La Donna Musicale is a non-profit research, education, and performance organization devoted exclusively to the discovery, preservation, and promotion of sacred and secular music by women composers. The ensemble uses period instruments and historical performance practices.
Biography: Hailed by Early Music America for its "excellent performers … outstanding music stylishly performed," La Donna Musicale is dedicated to the historically informed music performance by women composers of the Renaissance, Baroque, and Classical periods.
Our concerts provide "both valuable knowledge and entertainment" (Bryn Mawr), and our CDs of Antonia Bembo and Julie Pinel have been praised in Goldberg: "first-rate … a disc I will be returning to for a long time to come"; International Record Review: "first-rate performances of unusually delightful music"; Notes: "warmth and impeccable accuracy"; and Early Music America: "Exacting scholarship is backed up by high-quality performances."
Inform people about the accomplishments of women in a variety of musical capacities.
Research and retrieve unpublished music from archives and libraries
Present this music in a historically informed manner, using instruments that reflect the techniques from the era in which the music was composed
Make the general public aware of the breadth and creativity found in the work of female composers.
Offer access to concerts and music presentations to people of all races, ages, and backgrounds.
Provide role models of female composers and performers.
Provide remunerated performance opportunities for musicians.
Stimulate discussion and research on the above topics through pre-concert.
Lectures, workshops, and outreach programs.
Encourage contemporary women composers to write music for period instruments (viola da gamba, harpsichord, baroque violin, flute, etc.)
Stimulate discussion and research on the above topics through pre-concert lectures, workshops, and outreach programs.