La Donna Musicale fosters a diverse audience by advertising its concerts through mailings, flyers, public radio and newspapers. Performances, workshops and lectures are also promoted at libraries and schools. Each performance features a pre-concert lecture, offering relevant information about the lives of the composers and the cultural context in which the music was produced. The pre-concert lectures are given by musicologists from area institutions who specialize in this repertoire. A post-concert gathering allows the audience to view the Baroque violin, flute, harpsichord, viola da gamba, and other period instruments and to ask questions regarding their construction and performance practice.
La Donna Musicale maintains a school out-reach program that includes performances, brief lectures, and "hands-on" demonstrations of period instruments. These outreach programs aspire to educate young people about all aspects of 17th- and 18th-century musical culture. These events provide a unique opportunity for raising awareness about historical and contemporary women composers.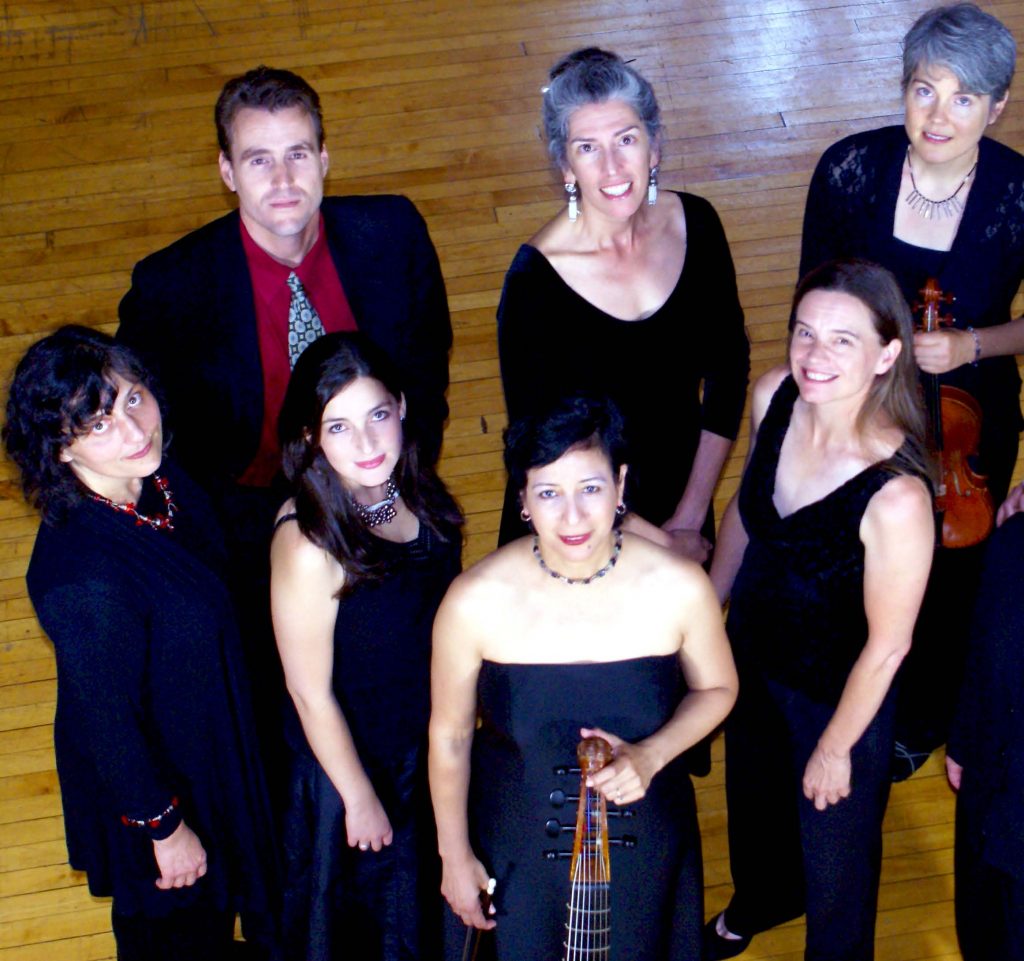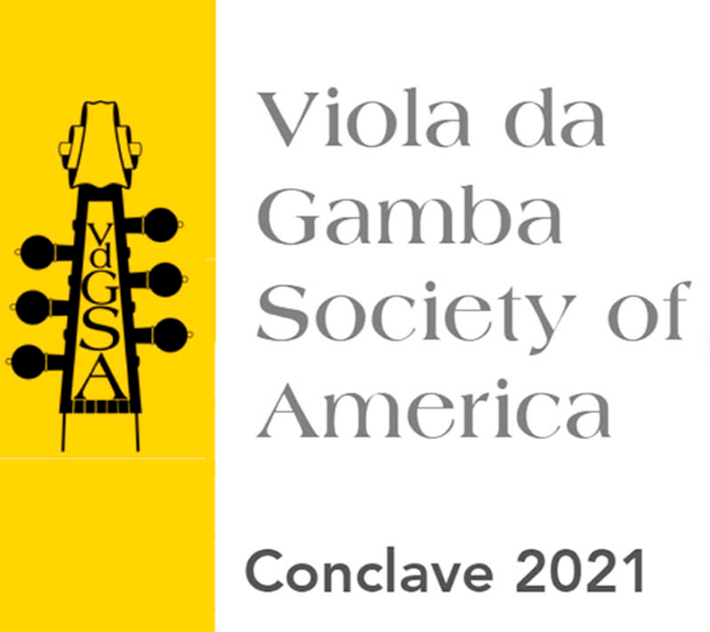 Viola da Gamba Society Conclave
July 25 – 31, 2021 (Virtual)
Our director Laury Gutierrez will be offering 2 classes during this year's Conclave:
Altered States: Music by Women Composers
11am – 12pm EDT
July 26, 27, 28 & 29, 2021
Laury Gutiérrez LI–I+
Limit 35, all sizes
Explore the altered states brought on by secular and sacred love, as represented in late 16th century and early 17th century Italian music. Madrigals by Madalena Casulana and Vittoria Aleotti contrast with madrigals and motets by Chiara M. Cozzolani and Barbara Strozzi. We are including pieces from Strozzi's rarely heard first books as well as the best
of the madrigals of Casulana (ca. 1544 – ca. 1590), the first pieces by a woman ever to be published. Also the first published madrigals and sacred music by other women composers, including Raffaella Aleotti (ca. 1575 – after 1620) and Caterina Assandra (ca. 1590 – after 1618). The music is mostly in four or five parts, but there are several pieces for larger ensembles.
For more information or to register visit: VDGSA.org
The "Other" Baroque Dances
Third Period: 3pm – 4pm EDT
July 26, 27, 29, & 30, 2021

Laury Gutiérrez LI–I+
Limit 35, all sizes
Through the Cumbe, Jácaras, Zarambeque, and other dances we can gain a taste of the lively, hip swaying music danced by Africans on the Iberian Peninsula and in the New World, mostly in the 17th and 18th centuries. This class will explore these dances, using the literature for vihuela/guitar and harp as the sources for our musical texts. We will study and perform both the solo melody and the accompaniment. This is also an opportunity to learn to pluck or bow basic chords to accompany these rhythmically lively and harmonically simple dances. Music by Anonymous from the Salamanca and Coimbra manuscripts, Santiago de Murcia (Codice Saldivar #4, ca. 1730), and Luis Ruiz de Ribayaz (Luz y Norte Musical, 1677).
For more information or to register visit: VDGSA.org
Lecture/Demo: Laury Gutiérrez
Monday 8 pm EDT
We in Rumbarroco are proud to present our project Afro-Baroque Music, where we illustrate Africa's lasting musical legacy in Ibero-American music.We'll explore the intersection of early European music with the aural African traditions and current Latin-American sounds, as well as the fusion of art or "learned" music with folk and popular forms. Our project will include African-influenced instrumental music from Portugal and Brazilian the seventeenth and early eighteenth centuries, as well as Early vocal music fromSpain, Mexico, Puerto Rico, and Venezuela—in particular, with texts that acknowledge the presence of African descendants.We will present samples of our AfroBaroque programs: The songs of Mysterious Morenas with music from the Cancioneros; The "Other" Baroque Dances: Cumbe, Zarambeque, Jacaras, with music from the guitar and harp sources, and Black Villancicos with music from the villancicos of the Liturgy of Santa Cruz De Coimbra (Portugal).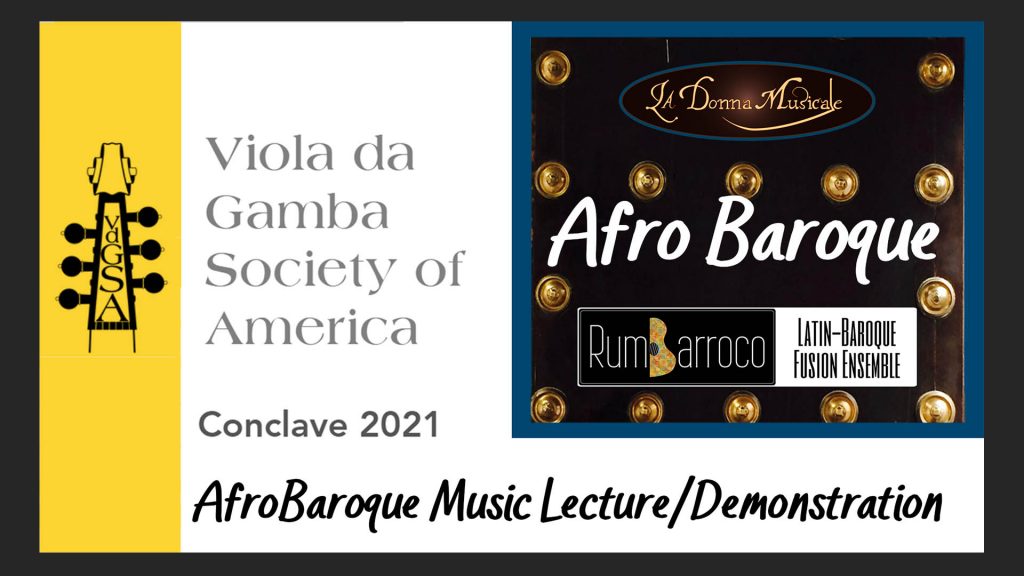 Adriana Ruiz, Daniela Tosic, & Josaphat Contreras, voices
Lisa Brooke, violin
Eduardo Betancourt, harp
Ricardo Matute, Juan Luis Oropeza, & Karolina Meireles, percussion
Moah Kim, keyboards
William Hernandez