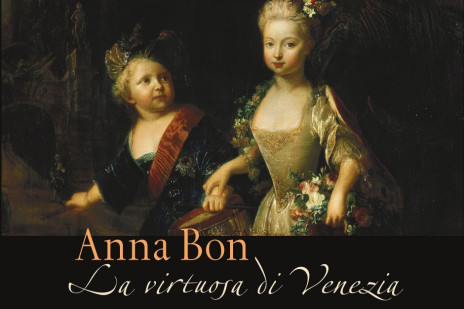 La Donna Musicale's latest recording, Anna Bon: La virtuosa di Venezia, full of musical pleasure, presents a variety of instrumental combinations that bring out the many vivid qualities of Anna Bon's expressive, humorous, and virtuosic music. It features the never-before-recorded blending of solo pardessus de viole, violin, and flute, joined by the rich sounds of viola da gamba and fortepiano.
The disc also includes the world-premiere recording of three fascinating vocal pieces attributed to Anna Bon, featuring one to four voices with a chamber orchestra of eleven. Internationally acclaimed soprano Julianne Baird displays her extraordinary period ornamentation and improvisation in these pieces. In addition, the liner notes include new biographical information about Anna Bon!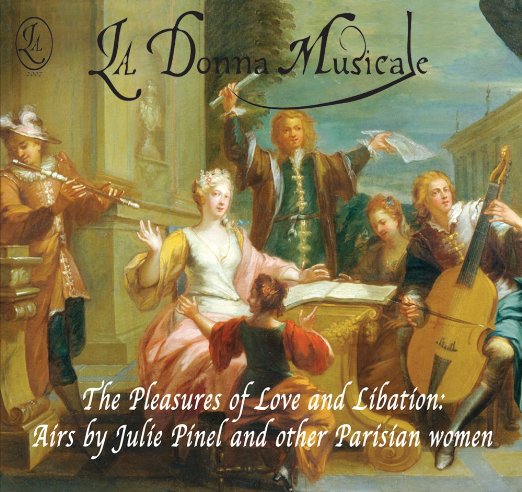 Our third CD, The Pleasures of Love and Libation, departs the sacred theme of our previous releases, as we explore the decidedly secular contributions of Parisian women composers to the French Baroque and Rococo genres of the airs sérieux and airs à boire (serious and drinking songs).
These song forms celebrate passionate longing and dissolute intoxication. Julie Pinel (fl. 1737) is our featured composer, and we include several selections her 1737 publication Nouveau recueil d'airs. Music composed by unknown Parisian women and by Elisabeth Jacquet de la Guerre is included as well. This CD res the luxuriant environment of an intimate Parisian salon, replete with the sounds of voices in solo, duo, and trio settings, with flute accompaniment and supported by the captivating tones of the theorbo, baroque harp, harpsichord, and viola da gamba.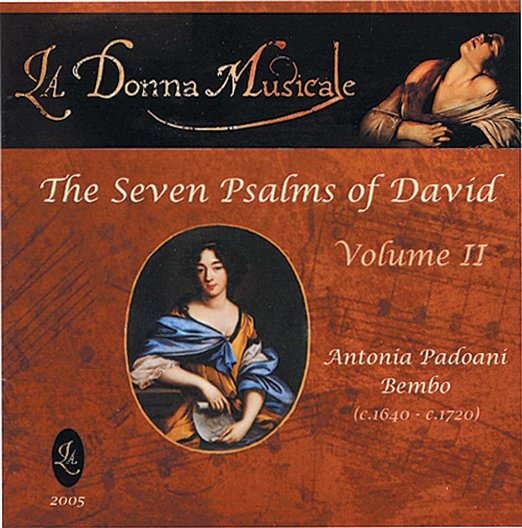 La Donna Musicale's second CD, The Seven Psalms of David, Vol. II, concludes the first-ever recording of The Seven Psalms of David by Antonia Padoani Bembo. As with Volume I, this recording also includes instrumental music by Bembo's contemporary Elisabeth Jacquet de la Guerre.
Taken together, they constitute the largest recorded compilation of Bembo's music, as well as the first recording of the Psalms. They provide listeners not only with an opportunity to hear this very powerful and interesting music, but also with a fascinating glimpse into the world of neglected Baroque women composers such as Bembo, Jacquet de la Guerre, and their contemporaries.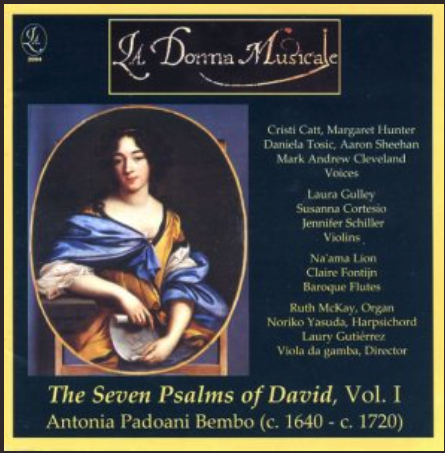 La Donna Musicale's first recording, The Seven Psalms of David, Vol. I, which features music of the Italian-French Baroque composer Antonia Padoani Bembo and her younger French contemporary Elisabeth Jacquet de la Guerre.
 Here Bembo sets the penitential psalms of her contemporary, poet Elisabeth-Sophie Chéron, providing a musical interpretation of Chéron's passionate verse. The CD has received wide acclaim and outstanding reviews in both American and European journals, including Goldberg, the prestigious international early music magazine, and Early Music America, published by the leading early music organization in the United States.